Last Sunday, I went freediving with friends - Johnn and Edwin - at the Cebu Beach Club. Johnn's other friends – Nykel, Nikko and Norman – joined us too (just realized their names start with N! lol ). Johnn, whom I fondly call E.J., is actually a fish in his past life (i think), coz he always lightens up at the mention or sight of sea water. hehehe. He's also aspiring to become a professional free diver. So on his birthday, he invited us to join him to freedive at Mactan Island. We were supposed to go island hopping but the bad weather the previous day was to be blamed for the change of our diving venue.
When Johnn sent the invitation, I immediately said game to test my new snorkeling set. Even though I'm still struggling to learn how to dive, EJ assured me that he'll help me learn how. He also brought an extra pair of fins to lend to me since I didn't have one yet.
There was a big company outing happening at the Cebu Beach Club resort. Bisaya novelty songs greeted us when we reached the place. At first, I thought they were playing a recording but we realized that there was a videoke machine and a couple of guys were actually singing to their heart's content. It was annoying at first but we found it surreal hearing their voices coz their singing sounded like coming from the original singer. After the singing, they started playing bingo. The commentator was very funny when I listened as he tried to come up with different names to represent each of the letters of Bingo. If not for the inviting swimming pool and the opportunity to start our free diving soon, we would have joined their crowd to play bingo too! Heck, we don't even mind if the prize money is only 500 pesos so long as we join them!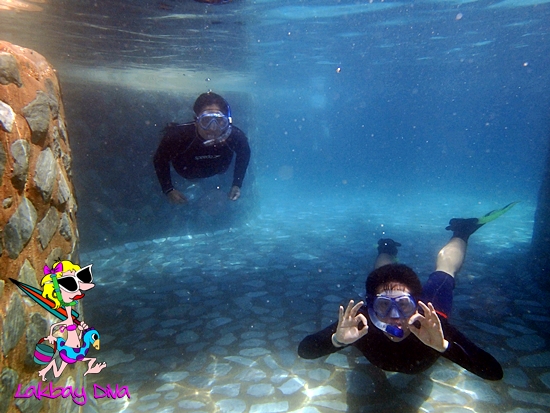 with my diving master shifu, EJ, with me lagging behind

We got distracted on that game for a while. But we came there to freedive. So before we went to the open sea, EJ taught me how to dive in the swimming pool. I find it hard to swim in the swimming pool probably because of the lack of salt water. I was having a hard time catching my breath while preventing myself from drowning. After the diving lessons with Johnn, I finally got it. I finally learned how to dive! Wohoooo!
Well not really that well. At least I learned the basics and the logic that follows when one wants to dive.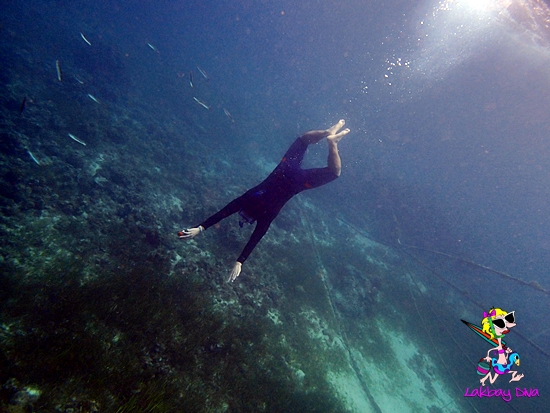 EJ, free-diving at Cebu Beach Club
Freediving (or free-diving) is a form of underwater diving that does not involve the use of scuba gear or other external breathing devices, but rather relies on a diver's ability to hold his or her breath until resurfacing.
We went to the open sea soon after. We left the 3Ns at the shore since they're not that crazy to freedive like us three.

EJ and Edwin spent 3 hours free diving while I practiced to get the hang of it. I worked on my breathing since I always ran out of air when I decide to go for a dive. I panic too much when I find water rushing in my snorkel, you see. So I exerted more effort than the other two. I think I had more rest periods than freediving or snorkeling in there. From a distance, I could hear the group ashore playing their bingo game. Made me wonder too if our other friends didn't die from boredom while waiting for us back at shore. lol.
But despite my inability to join the other two giant fishes, the feeling of finally learning how to dive was overwhelming. It was addicting. I really love to swim and I can't wait for our next freediving sessions. A date has already been blocked for our next diving adventure and I'm so excited to swim again to visit the colorful world down under.
Since I can't rely on EJ's fins all the time, I bought my own pair today at R.O.X. at Ayala Center Cebu, the cheapest of the bunch that was a perfect fit for my travelling feet. weeeee.  Am so happy I completed my swimming gears. Rash guard – check. Board shorts – check. Snorkeling mask – check. Snorkel – check. Fins – check.
I can't wait for next week to try out the new fins. The fins are from Mares, same as my snorkel set. The packaging says its size is EU 34/35. My feet's size is playing around 5 t0 5 1/2. The fins are somewhat tight for my feet but I  guess that's ok to also prevent it from slipping off when I swim. I hope I won't injure my feet bones in the process though. hehe.
I hope the new Mares fins I bought will be my new bestfriend in swimming. I can't really wait to test them in the waters. pramis!

Oh, one more thing, swimming and free-diving can be addicting. You should try it!

P.S. underwater photo credits goes to the bonggalicious Lakbay Diva!