I originally planned to go on a trip to Chiang Mai to witness the Thai Water Festival, most famously known as the Songkran Festival, when a friend mentioned this to me last February but my travel plans changed. I was supposed to travel with my friends to Laos to celebrate the Songkran Water Festival but due to unavoidable circumstances, I ended up travelling to Chiang Mai alone instead. But the timing was just right when I arrived in Chiang Mai for the Songkran holiday.
The Songkran Festival is the celebration of the Thai New Year. This 2012, the Songkran holiday falls on April 13 up to April 15, 2012. However, the water splashing activity starts a day before to mark the eve of the Thai new year and I was glad to have witnessed this crazy yet fun tradition. The most notable way of celebrating Songkran is through the throwing of water to anyone in the streets! It is believed that Songkran is a time for cleaning and renewal which explains the water fights.
Locals roam around bringing with them any kind of water container and throw water to people. When you roam the streets of Thailand, you will see different toy water guns. Some have improvised toy water guns and use water bottles instead. Others find water guns a hassle and would rather use buckets to throw water to people. They say it's best to celebrate Songkran day in Chiang Mai so tourists flock to this city in Northern Thailand to celebrate the Thai Water Festival with the locals.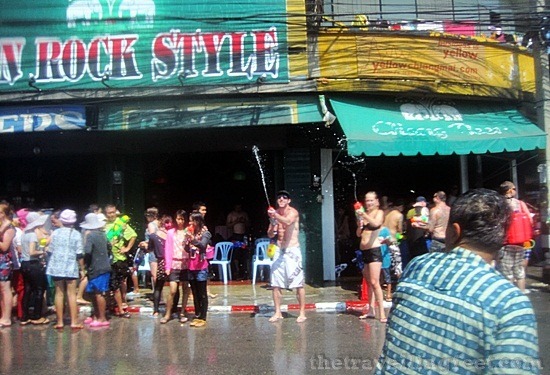 This Thai water festival is something you shouldn't miss when you visit Thailand during April. You can book for flights to Thailand ahead of time to celebrate the holidays there. You will never regret this trip since you will have so much fun in the streets! Just be prepared. You'll either get wet and take in all those water or you grab yourself your own water gun and start throwing water at people.
Songkran Water Festival Essentials
If you want to celebrate the Thai New Year on the streets of Chiang Mai, you better be prepared.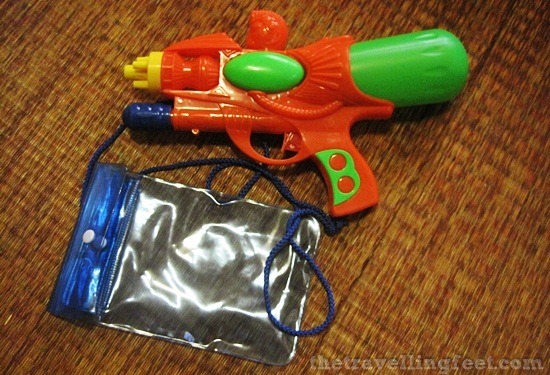 Water gun
There are a lot of water  guns being sold in the streets of Chiang Mai or anywhere in Thailand if you want to part take in the water fights. Surely, you'd be tempted to buy one to get back at those splashing or throwing water at you

Water guns are sold from 25 baht up to 500 baht, some even more. I bought mine for a hundred and it's just a medium-sized gun. Yeah, I had to have one you know

Waterproof pouch
Waterproof pouches are essential for your valuables. You can store your money, camera and other gadgets. You'd be crazy walking the streets of Chiang Mai, Bangkok and other areas of Thailand without any protection for your valuables during the Songkran Day since you will definitely get wet.
Sunscreen
April is a summer month in the city of Chiang Mai so if you don't want your skin to get burned, better apply those sunscreens. This will also help you protect your skin from the harmful rays of the sun.
Sunglasses
Due to the sun's rays, it would also be best to bring your cool eye shades or sunglasses with you. This will only not protect you from the sun's blinding rays but it will also protect your eyes from all those waters being splashed on your face out of nowhere

Other people buy rain coats but I wouldn't recommend it since you'd still end up getting drenched with any kind of water. Check out the video clip on this post to see what I mean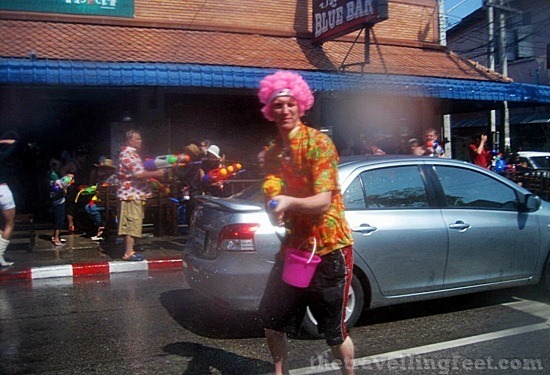 To join the celebration of the Thai New Year, you have to go out in your most colorful costume and start splashing water to anyone you meet in the streets of Thailand.
You might wonder where people get their water right? Well, there are those locals who would put up big drums or water containers in front of their houses. You can get your water guns refilled from their containers. But for those who doesn't have access to these containers, there's always the river that surrounds the old city of Chiang Mai.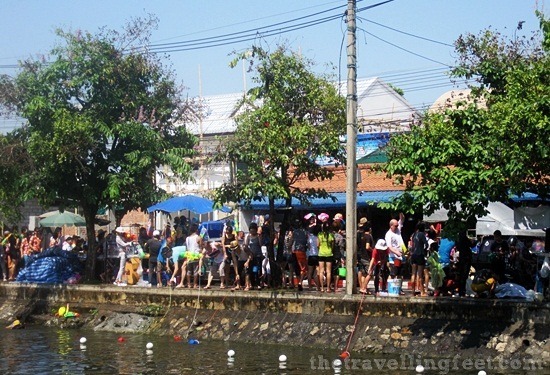 locals and tourists get water from the river
Here's a short video to show you what happened on the eve of the 2012 Songkran Festival.
The Songkran Festival is not only about water fights. Locals also visit temples to pay homage to Buddha. Today, on the official Songkran Day, I visited Wat Chediluang Varaviharn and it was really beautiful. When I went inside the temple, it was screaming with gold. You should check this out too!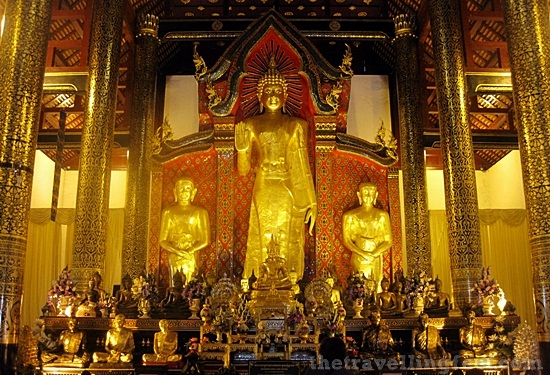 shining shimmering splendid

Celebrating Songkran 2012 was such a blast. I was happy that I decided to push through with my trip on this charming city up north of Thailand. The city is so beautiful and if given the chance, I would stay longer in the city of Chiang Mai.
Songkran Day is still ongoing and will end on April 15, 2012. So if you are planning to experience this one-of-a-kind Thai new year celebration, travel up north and visit Chiang Mai and enjoy celebrating one of the best festivals in Thailand. You can also head over to Khao San Road in Bangkok if you can't make it to Chiang Mai.
How to get to Chiang Mai
Bus
I bought my ticket to Chiang Mai at the Morchit Northern Bus Terminal in Bangkok for 403 baht on April 10th. During the peak season, bus tickets costs as high as 1600 Thai baht if you buy from a travel agency. However,booking for your trip to Chiang Mai from a travel agency is hassle-free with their free pickup service instead of going to the bus terminal on your own. The bus trip lasts for 12 hrs. You can also get a bus to Chiang Mai from other parts of Thailand or its neighboring countries.
Train
There are different train seats available for you. The cheapest one charges 271 baht for a hard seat. You can also book for a 1st class sleeper train for 1,453 baht. There are more seat options for the train ride at this link. The train ride could last from 12-15 hrs. You need to book in advance since it would be a miracle to get a seat if you buy it a day or two before the Songkran holiday.
Plane
You can also fly to Chiang Mai from Bangkok. This city in Northern Thailand has an airstrip. The cost of travelling by plane could be quite expensive but your trip will be cut short as it only takes approximately an hour to reach the city from Bangkok. If you are travelling from other countries, you can also check if there are direct flights going to Chiang Mai, Thailand from wherever you are.