A friend once asked me to identify the number one travel blogger in the Philippines and I couldn't answer the question out right. With a lot of established travel blogs to consider, old and new, it's really hard to pick my number one favorite Pinoy Travel Blog.
But with the latest poll circulating around the blogosphere, which is spearheaded by Melo of the OutofTownBlog.com, each blogger is encouraged to share their top 15 favorite blogs. I also don't want to miss on this opportunity to share with you the top travel blogs I enjoy reading. Some of these blogs provide practical travel guides while some share their travel adventures through witty and genius write-ups. Some also offer you spectacular photos from their trips all over. So in no particular order, let me present the top 15 Pinoy travel blogs I read and follow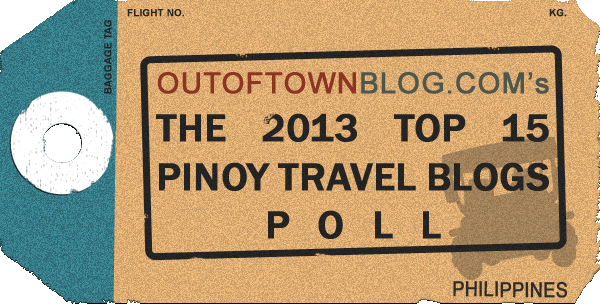 www.thepinaysolobackpacker.com
There you have it. Choosing my top 15 is not really easy. I wish I could make that list 30 or even 50 for there are still other Pinoy Travel blogs that I follow. You can check this link for the rest of the list. For now, you might wanna check out those blogs and follow them too in case you haven't done so yet

Happy reading!